ESG
(ENVIRONMENTAL
SOCIAL GOVERNANCE)
ESG
(ENVIRONMENTAL
SOCIAL GOVERNANCE)
ESG is embedded in every aspect of our business.
ESG
INTEGRATED INVESTMENT CYCLE AT COMPANY LEVEL
RESPONSIBLE INVESTMENT STRATEGY
Differentiated at I) platform and II) Fund level, and III) integrated throughout the investment cycle; Each investment team has an ESG champion in charge of implementing appropriate procedures.
INTEGRATION
Fully-integrated ESG Management System at platform level;
ESG factors integrated into investment procedures;
ESG requirements embedded within Fund constitution documents.
REPORTING
ESG reporting to LP's integrated within fund reporting cycle.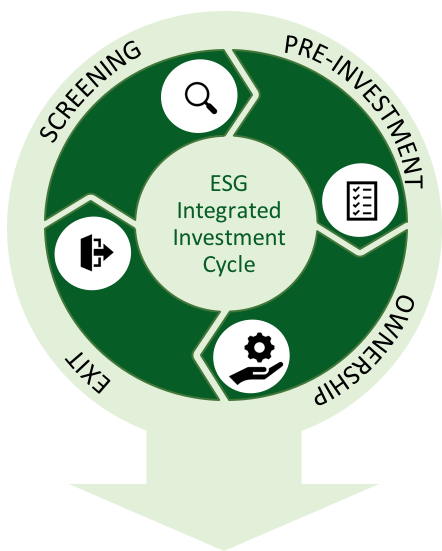 2020 PORTFOLIO RESULTS
570.000 MWh of green energy produced
301.570 t CO2 reduced
Green Arrow Capital adheres to the United Nations Principles for Responsible Investment (UNPRI) thus consolidating the orientation towards corporate social responsibility, sustainable investments and impact investing. This commitment supports the adoption of a new responsible investment policy adopted by the Group starting from December 2019.
Launched in 2006, the initiative is based on a series of principles that inspire fund holders, managers or service companies in the conduct of their business. These Principles are globally recognized as the reference network for investors who are committed to integrating environmental, social and good corporate governance (ESG) factors into their investment processes.

Therefore, Green Arrow Capital is committed to: Integrating ESG factors in the analysis and decision-making processes regarding investments;

Be active shareholders and incorporate ESG factors into our policies and into active share ownership practices;

Request adequate communication on ESG aspects from the entities in which we invest;

Promote the acceptance and application of the Principles in the financial sector;

Collaborate to improve our effectiveness in applying the principles;

Communicate our activities and progress made in applying the principles.
"By signing the UNPRI principles, we want to confirm the Group's attention towards the social and environmental responsibility in investment management," said Eugenio de Blasio, founder and CEO of Green Arrow Capital.
Alessandro Di Michele, partner and CFO of Green Arrow Capital declared: "By affirming our commitment to pursue a socially responsible management activity, we signed the PRI (Principles for Responsible Investments) on January 2020 as a natural continuation of the path started with renewable energies since we founded the Group".
GAIF classified as 'Article 9' under SFDR.
Following the Regulation (EU) 2019/2088 of the European Parliament and of the Council on sustainability-related disclosures in the financial services sector (the "SFDR") which was published on 27 November 2019, asset managers are required to classify their investment products according to the level of sustainability and to adjust related documentation and reporting accordingly.
The SFDR aims to provide greater transparency to investors addressing the following issues:
(i) how sustainability risks are integrated within the management of a Fund; and (ii) environmental / social characteristics or sustainable investment objectives promoted by a Fund
Specific categories of sustainable classification aim to help investors to get a better guidance in terms of the level of sustainability of their investments:
• Article 9 is suitable for funds that have a sustainable investment objective (with a strong ESG focus);
• Article 8 is suitable for funds which promote, amongst other characteristics, environmental or social characteristics (with some degree of ESG focus);
• Article 6 is suitable for those products which do not fall into either Article 8 or 9 (with no ESG focus).
After careful consideration and analysis of each of the available categories, Green Arrow Capital is pleased to inform our investors that Green Arrow Infrastructure of the Future Fund S.C.A. SICAV-RAIF has been classified as 'Article 9' under the new Sustainable Finance Disclosure Regulation (SFDR), which means the fund has a strong ESG focus.
The fund's documentation has been amended accordingly to reflect this change with an effect from March 10th, 2021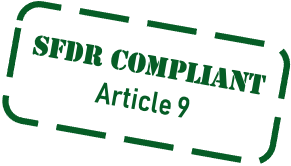 SDG GOALS WE TAKE TO HEART